Our practice accepts insurance from the following companies.

MetLife
MetLife offers our Chicago area patients a range of competitively priced dental insurance benefits plans for companies of all sizes.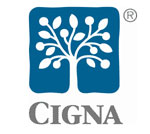 CIGNA
CIGNA offers a variety of dental plans and dental insurance to our Chicago area patients, including CIGNA Dental Care (DHMO), CIGNA Dental PPO or CIGNA Traditional.

Aetna
Aetna is a national leader of health and related benefits offering dental insurance to our Chicago patients, as well as health insurance, pharmacy, and life insurance products for individuals, medicare insurance and disability.
Implants - the alternative to dentures
If you are missing one or more teeth, you'll want to talk with Chicago area dental implant dentist Dr. Donald Bennet about replacements that look and feel as natural as your own teeth. If dentures are causing you problems, you may consider dental implants. Unlike dentures, which can be removed, Dr. Bennet offers dental implants that are permanently anchored into the jaw itself.
We accept Aetna Dental® insurance
Donald Bennet, D.D.S., in the Chicago area accepts Aetna Dental® insurance. At Lake Dental Care, our friendly team will be happy to file your insurance claim for you.
We want to make your dental treatment as affordable for you as possible. Your long term oral health is our primary concern.
Treatment for bleeding gums
If you have unhealthy gums, it's important to seek treatment soon. Your bleeding gums could be warning you of future tooth loss or even the potential for stroke and heart disease. Schedule a periodontal assessment with Chicago area gum disease dentist Dr. Donald Bennet today. It's one of the most important things you can do for yourself and your family.
Relax with sedation dentistry
New and safe sedation dentistry with Chicago area sedation dentist Dr. Donald Bennet means you can have years of dental treatments done quickly while you're lightly sedated, with little or no discomfort. If you've been putting up with discomfort, hiding your smile, or delaying scheduling dental work because you're too busy, your life is about to change. Make a sedation dentistry consultation appointment today with Dr. Bennet.
Whitening for brighter natural looking teeth
Would you like your smile to be a bit brighter than it is right now? We can make it happen at Lake Dental Care, with professional tooth whitening for brighter natural looking teeth. Dr. Donald Bennet's Chicago, IL area office can effectively lighten your stained or discolored tooth enamel. Whiter teeth not only look great, they improve your self-confidence.